African Decorative Cushions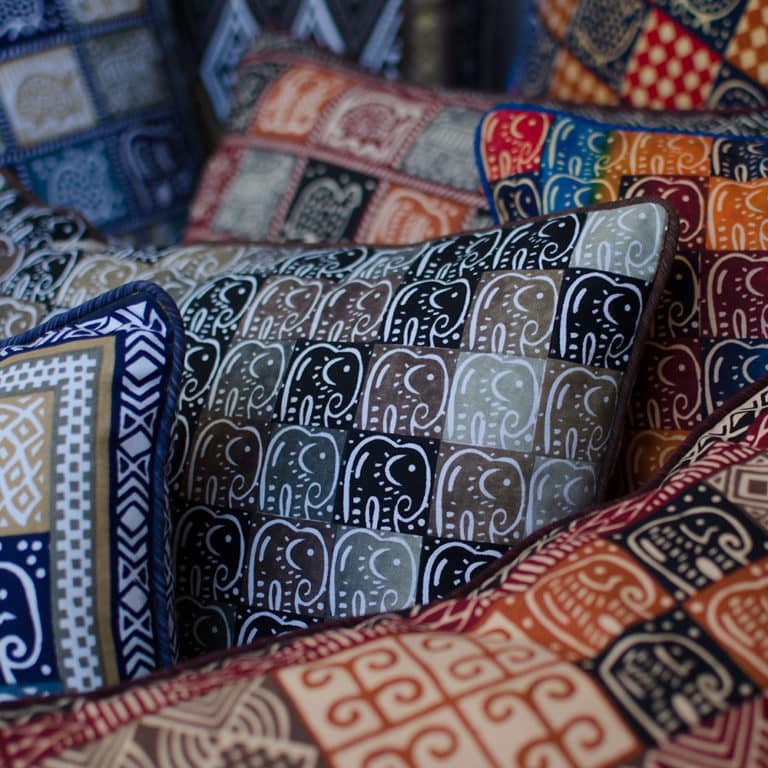 Looking for African cushions with screen printing? We have a large range of decorative cushions with African prints. These luxury cushions from Africa have a decorative motif and the fabric is entirely African. The decorative cushions come from Zimbabwe and are hand-printed using screen printing. The African cushions adorn for example the sofa and the living room.
LUXURY DECORATIVE CUSHIONS FROM AFRICA AT THE BLAKER
Welcome to the world of cosy African decorative cushions. In our range, you will find a large number of cushions with African prints and motifs. The luxury cushions are handmade in Zimbabwe, a country in Africa, using 100% locally grown cotton for the fabric of the cushions. We are in direct contact with the makers of these cushions made from African fabric, so we guarantee fair trade!
AFRICAN SILKSCREEN
The African print is applied through authentic screen printing. First, the basic colour of the luxury decorative cushion is screen printed. This basic colour is sometimes a rainbow of different colours and sometimes a plain colour. Then the pattern, like the one of the elephants, is printed on the cushion of African fabric by means of screen printing.
AFRICAN CUSHION COVERS AND INNER CUSHION
If you order the African print cushion with inner cushion, we will make sure that you receive the luxury decorative cushion including the inner cushion complete, so that you do not have to take care of your own inner cushion. In short, we can take the worry out of looking for a suitable inner cushion yourself, because we have a large stock of cushion covers and inner cushions. The inner cushion stays in place because of the beautiful buttons that are covered with fabric. This completes the luxurious experience that the African cushions give you.
ORNAMENTAL CUSHIONS, HANDMADE IN ZIMBABWE
The luxury decorative cushions from Africa are handmade at a small company in Zimbabwe that still pays real attention to the craft of screen printing. The luxury cushions are screen printed in an authentic manner. Pigments are mixed and applied in strips, creating an African rainbow print. The motifs that follow are conceived and hand-drawn by the founder of the Zimbabwean company that makes the cushions. The eye for detail for these African cushions does not stop there, as the quality of the cushions is finished off with contrasting piping.